Description
It's time to put The Plus in your transmit audio!
– Use EQplus to expand your W2IHY 8-Band EQ/Noise Gate. Connect one simple cable from your 8-Bander to EQplus and you're connected to world-class audio capabilities.
– EQplus can be used as a stand-alone unit. If the onboard Dual-Band EQ meets your needs, put EQplus between your microphone and radio. If you find you'd like to have additional adjustability and control, you can always add a W2IHY 8-Band EQ later on.
– Rack users: EQplus is a one-of-a-kind accessory that gives you unmatched capabilities in radio interfacing, impedance matching, level control and RF/audio isolation. Nothing else compares at any price.

– MAJOR FEATURE: Adjustable Compressor gives your signal a serious boost in loudness. Increase talk power while your signal stays squeaky-clean. 
– MAJOR FEATURE: Adjustable Downward Expander provides ultra-fast and transparent background noise reduction.
– MAJOR FEATURE: Limiter manages onboard levels and works in harmony with compressor for big, full, commanding audio.
– MAJOR FEATURE: Convenient front panel controls.
– MAJOR FEATURE: Interface up to 3 radios.
– Use the Dual-Band EQ for a finishing touch on your lows and highs.
– Effects Processor adds smooth bright presence to your signal.
Audio Demos
Please take a few moments to listen to these awesome audio demonstrations. If a picture is worth a thousand words, these recordings are worth a thousand pictures. Each operator is using a W2IHY 8-Band EQ/Noise Gate and EQplus. 
Click Here To Visit Our Audio Demonstration Page
As you'll hear from these examples, W2IHY processing lets you customize transmit audio for your operating interests and personal taste. And it's easy to change your audio personality in an instant. From rich, wideband ragchew audio … to penetrating, ultra-loud DX audio … to anything in between. Uncommonly clean, loud audio sets W2IHY processing apart from the rest. In a word, outstanding!
Introduction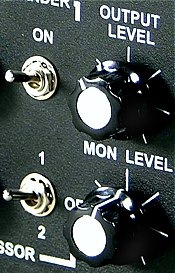 We said it years ago and it's still true. If you could choose only one piece of transmit audio processing equipment, it should be a W2IHY 8-Band EQ/Noise Gate.  Get one and you are 60% of the way there in audio improvements that can be achieved with amateur transmitters. We designed EQplus for amateurs ready to take the next step and do more with their audio without investing a lot of time or money.
Today's audio technology includes hundreds of signal-shaping techniques. Among these, some deliver genuine "bang for the buck" while others have limited value in amateur radio application. W2IHY did his homework to bring you the best and eliminate the rest. After years of R&D, plus user input, plus prototyping, plus on-air evaluations … we are pleased to introduce EQplus by W2IHY.

Product Specifications
Dual-Band Audio Equalizer
Bass & Treble independently adjustable +/- 12 dB
Equalizer bypass switch (on/off)
Audio Compressor Adjustable compression control
Wideband frequency response
Extremely low distortion
Compressor bypass switch (on/off)
Downward Expander
Sophisticated technology for background noise reduction
Adjustable threshold control
Limiter
Fixed limiting manages internal signal level
Harmonious relationship with compressor
Effects Processor
Acoustic enhancement for brighter, smoother top-end
Independent delay & level controls
3-way switch: effect one, effect two, effects off
Audio Input Connectors
The famous W2IHY I-K-Y 8-pin mic jack/selector switch
RCA phono jack
DIN (aux input)
Input Impedance Select
3-way switch: 600 ohm, 200 ohm, Hi-Z

Input Gain Control

Simple, quick input gain adjustment
Low noise pre-amp
Wide-range for mic-level & line-level signals
Mic Power
Provides 5VDC to mic cartridge
On/off switch
Output Level Control
Set precise drive level to your radio
Mic-level output
Line-level output
Three Audio Output Ports
Interface up to 3 radios
Rear panel port selector switch
Low-Z balanced and unbalanced output
Hi-Z output option
5-pin DIN connectors
Pre-wired cable assemblies available (optional)
LED Bar Graph
10-segment multi-color display
Monitors internal audio peak-to-peak levels
Displays compressor action
Indicates onset of limiting
PTT Input (RCA jack)
Adds push to talk control for non-ptt mics
Can be used with foot switch, etc.
Headphone Monitor
High-quality audio amplifier

¼" rear panel stereo jack
Front panel monitor level control

Operating Environment

Designed specifically for amateur radio use adjacent to transmitters and rf amplifiers
Extensive RFI protection & isolation from hum and ground loops

Physical

Steel enclosure
Black finish with white lettering. Attractive in any shack
Dimensions: 8-7/8" X 5" X 4"

Power

7-14V (100ma) wall transformer provided
LED indicator and on/off switch

Guarantee/Warranty/Support

30 day no questions asked money back guarantee
3 year parts and labor warranty
Free technical support

User-Friendly, Shack-Friendly Self-Contained Unit


EQplus users would rather spend their valuable time on the air instead of endlessly twisting knobs and setting menus. That famous audio guy Albert Einstein said "Everything should be made as simple as possible; but not one bit simpler". We're with you, Al. While EQplus employs sophisticated technology custom-engineered for amateur radio, it is surprisingly simple to set up and operate. 

With its shack-friendly footprint, EQplus fits nicely on operating desks where space is always at a premium. Note the efficient stacking feature when used with our 8-Band EQ.

Shielding from the steel enclosure, plus extensive internal isolation from RFI, hum and ground loops, ensures squeaky-clean pristine audio output. Like all W2IHY products, EQplus is designed and built to perform flawlessly in real-world amateur applications. 

The Powerful Processing Features of EQplus by W2IHY
(or … What did you do to make your audio sound so good?)

EQplus contains a carefully chosen set of processing tools proven to enhance transmitter audio. Signal routing sequence: Adjustable Low Noise Pre-Amp > Dual-Band EQ > Compressor > Downward Expander > Limiter > Effects > Adjustable Audio Output Amplifier.

Adjustable Low Noise Pre-Amp / Input Gain Control: Convenient front panel control makes setting input gain quick and easy. LED Bar Gaph indicates proper setting. The wide-range adjustable low noise pre-amp handles both microphones and line-level audio sources.

Dual-Band Equalizer: If you already use a W2IHY 8-Band EQ or other makes of audio gear, you'll appreciate the way this stage of equalization lets you fine-tune the final audio to the radio. These Bass and Treble controls are a refined update of our original Dual-Band EQ.

Compressor: In the quest for stronger signals, compressors have been used in radio communications for decades. The theory, which always looks great on paper, but is challenging in application: Increase average power by controlling instantaneous peaks. When we consider a 100-watt SSB transceiver might generate only 15 to 25 watts of average power, the advantage of even a modest amount of compression is obvious. Unfortunately, most amateur radio speech processors add distortion, processing artifacts and background noise. While adding audio components we don't want, they also remove audio characteristics we do want. They restrict low frequencies (typically below 300 Hz), making previously smooth and balanced audio harsh and shrill. Amateurs interested in the best possible audio from their radio often conclude the speech processor does more harm than good and operate with it turned off.

W2IHY devoted three years of development to the compressor design in EQplus. The goal: achieve the beneficial advantages of compression without compromise in audio quality. We did it! It's effective, it's squeaky-clean, it delivers wideband frequency response and does not attenuate the lows in your audio. While boosting average RF output power, the EQplus Compressor gives you a very noticeable audio enhancement often described as fuller, louder, more density. Compressor action is front panel adjustable and can be monitored on the LED Bar Graph.

Downward Expander: This advanced technology is used to eliminate or greatly reduce background noises picked up by the microphone. Optimum signal-to-noise is a must when the goal is a clean signal that's a pleasure to hear. The increase in signal presence and effectiveness is a plus for every style of operation including ragchewing, dxing and contesting. This processing stage logically follows the Compressor because compression raises background noise. Speech processors built-into radios do nothing to control noise, but EQplus does. Simply advance the DE control until noise disappears. Downward expansion is preferred in professional audio where faster, more transparent noise reduction is required. It works wonders in ham shacks, too!

Limiter: The pre-set Limiter provides consistent output level when onboard levels reach the limiting threshold (indicated on the LED Bar Graph). Use the Limiter in conjunction with the Output Level Control for absolute management of audio signal level going to your transmitter. And there is more to the Limiter in EQplus: Its harmonious relationship with the Compressor gives your audio a commanding presence.

Another plus of the EQplus Compressor/Limiter combination:Instantaneous peaks from an unmanaged voice signal can overshoot transmitter ALC causing momentary overdrive, distortion and splatter. With EQplus, the audio going to your transmitter is leveled for precise control. Result? A cleaner transmitted signal.

Effects Processor: We think of this feature as creative icing on the cake. After all other processing functions are set up, a slight amount of acoustic enhancement can add a finishing touch of top-end brightness, smoothness and presence. Two tasty flavors are included with user-adjustable delay and level.

Adjustable Audio Output Amplifier: Gives you precision control of signal level going to your radio. At low output, a mic-level signal is sent to the radio's mic jack. Or increase output to achieve up to a line-level signal for "rear panel" feed to your radio's balanced modulator or DSP input. With front panel control it's easy to set the level that's just right for your radio.

Utility Features Add Value


(While glamour features get the glory)


Premium-quality audio processing is definitely the star of the show in EQplus. At the same time, EQplus sets new standards in interfacing, level management, connectivity and operating convenience.

Want to send your great audio to more than one radio? EQplus is equipped with 3 audio output ports and selector switch for instant interface with up to three radios. Simple wiring options to the output cables give your choice of 600 ohm balanced or unbalanced plus HI-Z balanced for classic radios. Use the convenient front panel Output Level control to precisely meet the drive level requirements of different radios.
Front panel controls for essential functions give you an elegant solution to that age-old challenge of getting levels set just right.

Front-panel LED Bar Graph monitors input signal, compressor and onset of limiting action.

High-quality headphone monitor with adjustable volume is ideal for making adjustments.

EQplus sports the innovative W2IHY I-K-Y 8-pin microphone jack, aux in DIN jack and RCA jacks for microphone and PTT control.

Cables

We provide optional cable/connector assemblies custom-made to your requirements. Adding EQplus to a W2IHY 8-Band EQ requires a DIN-to-DIN cable from 8-Band output to EQplus aux in. If you are already using mic cables made for W2IHY EQs, you'll be glad to know EQplus follows identical conventions for output-to-radio wiring. So, the cables are fully interchangeable.

Dimensions – 9" W x 3" H x 5.5"D